Hospital Reputation Management Services in India
Our expert team specialise in Hospital Reputation Management Services in India overall medical care and supports surgeons, physiotherapists, dentists, general physicians and all other healthcare experts & enterprises related to the medical industry.
What Makes Us the Professional Hospital Reputation Management Services in India
Folksy manages the credibility of your healthcare organisations, clinic and hospitals among your consumers online. Our team of ORM experts have significantly benefited both our old and new clients in restoring the damaged reputations of various healthcare organizations.
Our Hospital Reputation Management ORM Services in India

Brand Reputation Management Services
View and check out our Global & National SEO pacakges…

Reputation Management Services for Corporates
Folksy Digital is one of the few SEO companies that has in-depth expertise in SEO for eCommerce websites. As experienced SEO consultants, we …

Reputation Management for Celebrities
Online Reputation Management or ORM, as the name suggests, is the process of managing the perceptions…

Hotel Reputation Management Services
Through our enterprise SEO services, we at Folksy Digital focus on building a comprehensive SEO strategy for your enterprise-level website.

Hospital Reputation Management Services
You could be the biggest shop on Main Street, but if you don't show up in local searches, you're missing out on a significant amount of clientele and sales.

Restaurant Reputation
Consider the impact of a billion users on one platform. One website where people gather, speak, interact, share and connect with each other.
How Folksy helps you in building a powerful reputation with its Hospital ORM services?
Apart from administrating your hospital, it is your inescapable duty to keep track of your online comments and reviews of the hospital to make sure that people are aware of your hospital, as well as are on good terms with the services and maintenance, you provide in it. Negative online comments about you may be posted by dissatisfied patients or your business rivals, which would eventually damage the image of your hospital. The reputation of your hospital can be improved and more sales can be generated by optimising its online presence. Folksy assures you of a professional implementation of the well-planned strategies available in the market addressing all facets of online reputation management. Our knowledgeable and skilled ORM experts craft more original ideas for your hospital, making the advantages of its offerings more well-known.
Building a strong brand in the health sector

Creating a more relaxing atmosphere for your patients

Fostering a closer relationship and a sense of patients and trust.
Spreading awareness on social media
Our Hospital ORM experts in Folksy work around clock to promote your brand on social media marketing like Instagram, Facebook, Twitter, you name it… We do analyse the response and comments of your hospital on social media platforms and plan strategies accordingly, to build a stronger reputation for your brand. 
Smarter approach toward responding to your patients
It is not enough to just reply to specific reviews and criticism in a professional manner. Our knowledgeable and dedicated Hospital ORM experts also reply in a way that really satisfies your patient's need as well as, benefits your hospital. We assure you of the quickest and maximum increase in your hospital's ROI.
Making use of online media effectively
If you really want your company to flourish without encountering any logistical or organizational difficulties, the quality of the virtual presence of your hospital online is absolutely essential.

Improved positive comments on forums and website pages for health reviews

improved communication via several platforms in social media.
Enhance your Online Reputation, Now!
EXPLORE OUR Online Reputation Management (ORM) PACKAGE, PLANS AND PRICING
Building trust for better reputation, Better reputation for more sales
Reputation Management Services Process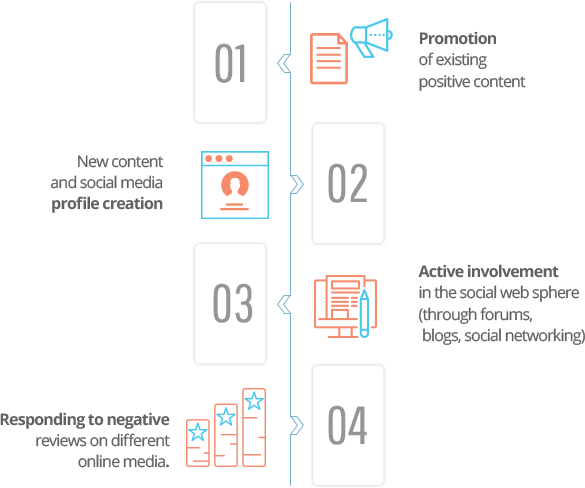 Let's Connect

error:
Content is protected !!