Online Reputation Management (ORM)
Apprehensive about a negative post? Want to proactively build a brand and create a connection with your customer? Whether you are a business house, professional or celebrity, put your faith in our Online Reputation Management (ORM) know-how to create an impactful online reputation for you.
What Makes Us the Professional Online Reputation Management (ORM) Service Provider in India
Online Reputation Management or ORM, as the name suggests, is the process of managing the perceptions prevalent about a corporate entity or even an individual on the Internet, on web based networking sites and social media, and on Search Engine Result Pages (SERPs). Another term used for it is Corporate Reputation Management. The Reputation Management Services could also be referred to as Brand Reputation Management Services if the entity whose reputation being managed is a brand rather than a corporate.
Online Reputation Management (ORM)

Brand Reputation Management Services
View and check out our Global & National SEO pacakges…

Reputation Management Services for Corporates
Folksy Digital is one of the few SEO companies that has in-depth expertise in SEO for eCommerce websites. As experienced SEO consultants, we …

Reputation Management for Celebrities
Online Reputation Management or ORM, as the name suggests, is the process of managing the perceptions…

Hotel Reputation Management Services
Through our enterprise SEO services, we at Folksy Digital focus on building a comprehensive SEO strategy for your enterprise-level website.

Hospital Reputation Management Services
You could be the biggest shop on Main Street, but if you don't show up in local searches, you're missing out on a significant amount of clientele and sales.

Restaurant Reputation
Consider the impact of a billion users on one platform. One website where people gather, speak, interact, share and connect with each other.
Enhance your Online Reputation, Now!
EXPLORE OUR Online Reputation Management (ORM) PACKAGE, PLANS AND PRICING
Building trust for better reputation, Better reputation for more sales
How are Reputation Management services different from SEO?
Online Reputation Management is related to SEO or Search Engine Optimization, and it uses many of the same techniques. However, ORM has different goals from SEO. Online Reputation Management primarily aims to promote positive or neutral content about an entity – individual, brand or company – rather than just generate more traffic with relation to certain keywords. The main objective is to push negative results down in SERPs, so they are seen by fewer people when searching for that entity.
Reputation Management Services – What is the process?
The process we follow for online reputation management services is simple and includes the following:
1. Promotion of existing positive content
2. New content and social media profile creation
3. Active involvement in the social web sphere (through forums, blogs, social networking)
4. Responding to negative reviews on different online media.
Reputation Management Services Process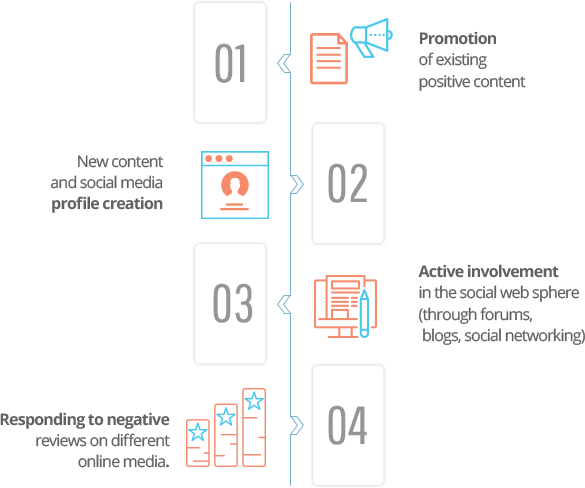 Why you need Corporate Reputation Management services?
The importance of reputation management services should not be underestimated, as user generated content about products and companies has become very influential today with burgeoning of consumer complaint forums online. These have become important enough to impact search engine results and sway your potential customer into going with your competitor instead. As such, Folksy brand management services are the best option for corporate reputation monitoring, protection and management.
Let's Connect

error:
Content is protected !!